What to Expect in a Home Inspection
Learn what to expect the home inspector to do, what you as the buyer should do and what your Real Estate agent should do...
A home inspection is an evaluation of the home and helps assure buyers that the property is in good condition and if is not in good condition or safe an inspection will inform buyers as to what areas they should focus repairs on.
A home inspection is a complete visual examination of a house including all the systems and components within the house. Home inspections allow buyers and sellers to negotiate a final selling price. If serious defects are found, buyers can work with sellers to have repairs made with a clear understanding of what needs to be done and why.
Sellers can order a home a pre-listing consultation before they list the home for sale to avoid big surprises after a home inspection, (there is a big difference between a Pre-listing Consultation and an actual Home Inspection), but usually inspections are ordered by buyers after they submit their initial offer on the home. Final offers can be made contingent based upon the outcome of the inspection, before a final closing price has been legally settled by contract.
What is Inspected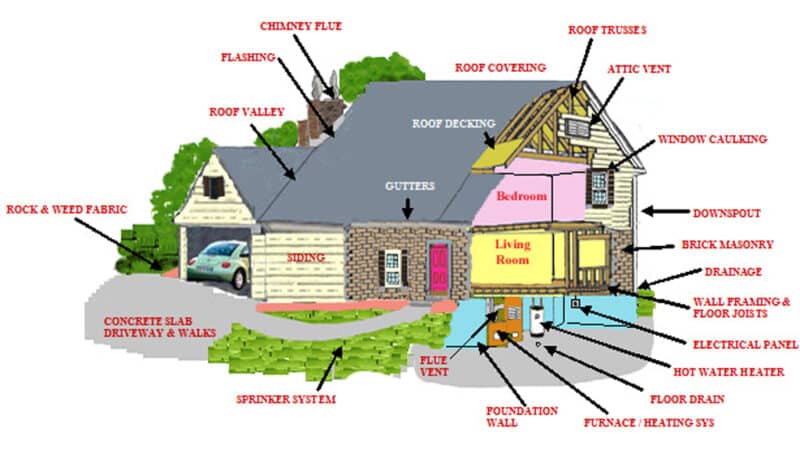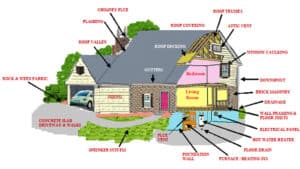 The inspector will examine the structure of the house, from the foundation to the roof. The inspection also includes the mechanical systems, such as plumbing, electrical, heating, air conditioning and ventilation; in addition, the inspector will examine walls, windows, doorways and exterior walks, driveways, curbs and garage facilities.
An inspection may result in recommendations by the home inspector to have repairs made or equipment replaced. The inspector will also let the buyer know of any areas that appear to be a safety hazard, which might include exposed wires, uneven sidewalks that could possibly be a trip hazard, loose steps or railings to just name a few examples. The buyer and seller then can negotiate payment and timetables for when the work would be done. This arrangement is usually done with the aid a buyers agent to put all agreements in writing.
Recommendations
A qualified and experienced inspector will also be able to make recommendations regarding maintenance for the structure, according to its age, structural condition and state of its mechanical equipment. By determining the age of the roof shingles for example, the inspector can advise a buyer on how long he should have before they may need replacing. But keep in mind this is only an estimate pertaining to the age of something. Many factors can lengthen or shorten the lifetime of a particular system. If they will be small children living in the home, the inspector may make recommendations about safety.
Attendance
Obviously the inspector will at the inspection, many times a Real Estate agent will attend. They typically will provide access to the property. The Real Estate agent that attends is usually the buyer's agent and they can also help you to understand the process. Sometimes the seller or sellers agent will be present. It is usually best if small children and pets not attend as they sometimes can grow impatient or become a distraction.
Inspectors will normally encourage your presence at a home inspection and it is really a important benefit to you if you do attend the inspection. While the home inspector is present, the buyer or seller can ask relevant questions and gain valuable information. The information included on a written inspection report may only give a vague or limited idea as to the condition of the house. Seeing things first hand, then later in a report make understanding everything so much easier.
Fees
The fee for the inspection will usually vary according to the size and age of the house and the types other inspections such as a WDO (termite) inspection, a Wind Mitigation, a 4 Point inspection, or if the home has a pool may also add to the cost of the inspection.
Licensing and Certification
As of 2010, all home inspectors in the state of Florida are required to be licensed and carry a minimal amount of liability insurance. All inspectors of SNS Home Inspections LLC have not only received their state license, but belong to InterNachi, a national organization that holds the inspectors to much higher standards. SNS Home Inspections LLC also carries E & O (errors and omissions) insurance. All of our inspectors are certified in many fields and can prove it. Never be afraid to ask an inspector to show their license and/or credentials.
Orlando, Windermere, Deland, Daytona, Apopka, Maitland, Best Deltona Home Inspector, Eustis, Winter Park Home Inspection, Daytona Beach, Hunters Creek, Ocoee, Lady Lake, Clermont, Kissimmee, Altamonte Springs, Casselberry, Winter Springs, Goldenrod, Lake Mary Home Inspector, Sanford Home Inspector, Longwood Home Inspections, Oviedo, Best Home Inspection in Orlando